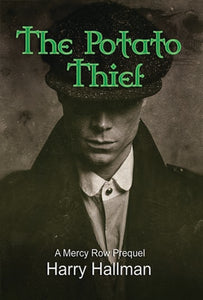 The Potato Thief is a prequel to the Mercy Row. The book can be read as part of the series or as a stand-alone novel.
It's 1881 and eighteen-year-old Irishman George Graham steals a bag of potatoes to feed his starving family. This simple act of desperation sets him on an epic journey to lands he never knew existed. George endures the sweltering Jungles of Indochina, faces bloodthirsty pirates in the South Atlantic, fights a war in Cuba, and finally makes it to the land of milk and honey, America. After he lands on the gritty streets of Kensington, the Irish section of Philadelphia, he finds the milk spoiled and the honey not so sweet. Prejudice and hatred for all immigrants, especially Irish Catholics, still thrives in the hearts of the rich and ruling class. To survive and prosper George and three other Irish immigrants join forces to supply weapons to both Irish and Cuban rebels.
Teenager Charlie Byrne joins them, and together they build the beginnings of what one day will be one of the most successful Irish criminal organization in the City of Brotherly Love the K&A gang.
eBook and paperback versions also available on Amazon.com